Sponsorship Program
Many Canadian citizens and permanent residents have loved ones abroad that they wish they could bring to Canada. Immigration to Canada doesn't have to be something that you take on alone. The Family Sponsorship Class is one of many Canada Immigration programs created by the government to help reunite families whenever and wherever possible. There are a number of relationships that qualify for Family Class Sponsorship, including spouses and parents and grandparents, common-law partners, and dependent children. For parents and grandparents, there is also the Super Visa program.
If you are a permanent resident or Canadian citizen, you could qualify to sponsor certain members of your family to immigrate to Canada with you. Your relatives can live, study, and work in Canada if they become permanent residents of Canada. You can sponsor certain relatives to come to Canada if you're at least 18 years old and a: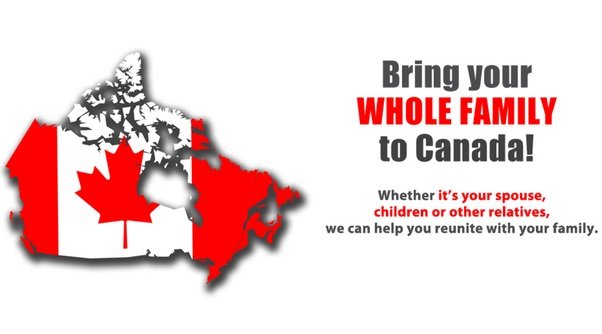 Canadian citizen or,
a person registered in Canada as an Indian under the Canadian Indian Act or,
permanent resident of Canada
---
Canada wants to help keep families together. For this reason, all Family Sponsorship applications are prioritized by the Canadian Visa Office. There are several categories that can help unite you and your loved ones, which are:
Spousal and Common-Law Partner Sponsorshi

p: A permanent Canadian resident or citizen may sponsor their non-Canadian spouse or common-law partner after they have been approved by the IRCC. Candidates in same-sex relationships are also considered by the Canadian government. The process of bringing a spouse to Canada can present a number of options to the applicant that should be carefully weighed. For example, there exist two types of federal spousal sponsorship: inland and outland. Each of those two options carries its own benefits and disadvantages. To find out if you are eligible for spousal sponsorship, start your free assessment today.
Dependent Child Sponsorship: Canada gives you an option of sponsoring your child who is under the age of 22 years provided you are a Canadian citizen or permanent resident. However, the candidates who pass the age of 22 years are also eligible for sponsorship but only for certain cases. This sponsorship applies to both adopted and natural-born children, so long as both sponsors and children receive approval from IRCC.
Parents and Grandparents Sponsorship and Super Visa: There are a number of ways to bring a parent or grandparent to Canada, including Canada's parents and grandparents' sponsorship program, which has a yearly cap on the number of applications that are accepted. Once this cap is reached, there is still the Super Visa Program, which allows them to come to Canada as visitors for a period of up to two consecutive years at their initial visit without having to renew their status. The visa can remain valid for up to 10 years, allowing for re-entry during this period of time.
---
To Become Sponsor, You Must Meet These Requirements:
Your age must be of or older than 18
You are living in Canada as a permanent resident or citizen.
You along with your sponsored relative must sign a sponsorship agreement, in which you commit that you will support him/her or them financially.
You will not be receiving social assistance for reasons other than a disability.
You have to Show enough money to support the person(s) you want to sponsor and all family members in Canada by providing your proof of income for the past three tax years.
You must provide documents to showcase finances for the past 12 months to IRCC so that they can demonstrate sponsors' ability to financially support the migrant.
Through Canada Family Sponsorship Programs, you can make your relatives apply for Canada Permanent Resident Program that enables them to live, study, and work.
If the sponsor resides in Quebec, then he/she need to meet Quebec's immigration sponsorship requirement, after Citizenship and Immigration Canada (CIC) accepts you as a sponsor.
When you commit yourself to sponsor someone to Canada, you want to ensure your application has the best chance of approval possible. That is why we can help guide you through the process, and help make sure your application is completed as efficiently as possible to lead to success. We are just one call away from you, you can book your appointment here.
---